News — halter-top-prom-dress
• Amari Prom • amariprom • backlessdress • beadeddress • blackpromdress • blue dress • clarisseprom • Colette Prom • colorsdress • goldpromdress • green prom dress • halter-top-prom-dress • lace prom dress • lafemmeprom • orangepromdress • pinkpromdress • primavera prom • prom • prom2023 • promdress • promdressesMA • promdressesnearme • purplepromdress • reddress • whitepromdress • yellowpromdress
When it comes to buying a prom dress, the first question shoppers usually ask themselves is "what color do I want to wear?"  And it's a tough question to answer. It depends on so many factors: what do you feel comfortable wearing? Do you want to escape your comfort zone? What are your classmates wearing? And that's just the beginning. While we've taken it upon ourselves to give you an outline of the most popular colors and styles for prom 2023, we thought it would be even more helpful to take it back to the basics and go color by...
---
• a-line prom dress • Amari Prom • amariprom • Colette Prom • halter-top-prom-dress • lace prom dress • mermaidskirt • mermaidtrain • prom • prom2023 • promdress • promdressesMA • promdressesnearme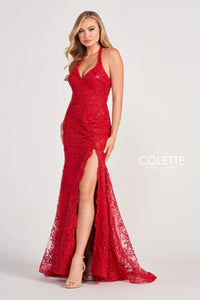 Colette's Philosophy  Lots of brands blew up the prom dress scene for the 2023 prom season, but none did it quite like Colette for Amari. Contrary to the dainty and feminine air of the Colette website, the designer, Daphne (or Daf) holds a commitment to keeping things spunky.  Her designs may be innovative and peak prom style, but her prom night philosophy is anything but: "burn a few bridges. Quit something without regret. Make a boy cry. Find love, lose love. Now go find a dress that shows everyone that you are as badass as you know you know you...