• Amari Prom • amariprom • backlessdress • beadeddress • blackpromdress • blue dress • clarisseprom • Colette Prom • colorsdress • goldpromdress • green prom dress • halter-top-prom-dress • lace prom dress • lafemmeprom • orangepromdress • pinkpromdress • primavera prom • prom • prom2023 • promdress • promdressesMA • promdressesnearme • purplepromdress • reddress • whitepromdress • yellowpromdress
When it comes to buying a prom dress, the first question shoppers usually ask themselves is "what color do I want to wear?"  And it's a tough question to answer. It depends on so many factors: what do you feel comfortable wearing? Do you want to escape your comfort zone? What are your classmates wearing? And that's just the beginning. While we've taken it upon ourselves to give you an outline of the most popular colors and styles for prom 2023, we thought it would be even more helpful to take it back to the basics and go color by...
---
• a-line skirt • alyce paris • amariprom • backlessdress • blue dress • corset back • faviana • jerseymaterial • jessica angel • jovani • la femme • lace-up back • leg slit • legslit • mermaidskirt • mermaidtrain • neon pink • open back • openback • portia&scarlett • portiaandscarlett • primavera • prom • prom 2022 • prom trends 2022 • prom2022 • promdress • scarlett • sequins • tania olsen • trumpet skirt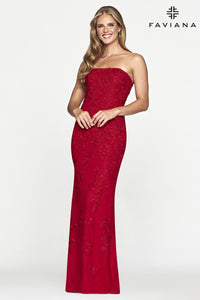 With prom shopping season now in full swing, everyone wants to know, what is everyone else buying? Well the data is in; let's talk prom color and style trends for 2022.  The top three colors for prom 2022 are as follows: any shade of blue, hunter green, and neon pink. Navy and red wine are honorable mentions, as they are every year. Many people like to stay on trend; no one can call dibs on a color, and there are so many different fabrics, styles, and silhouettes that two dresses in the same color are still completely different dresses.  But...