Happy St. Patrick's Day from Amari Prom! Along with Shamrock Shakes, Kiss Me I'm Irish t-shirts, and homemade potluck dinners, we at Amari wanted to continue the holiday fun and show you all some awesome green dresses we have in-store! Whether an a-line skirt or a ballgown, we've got dresses that'll make everyone else at the prom green with envy. 
This beaded beauty features a stunning plunging neckline, semi-open back, and pale green detailing that carves out your waist and cascades down your hips in an incredibly flattering A-line silhouette. 
Colors Dress number 2745 has a deep emerald base with a striking sequin embroidery with the ever-popular lace-up back. It also comes with a straight neckline and slight train at the end. 
Colors Dress G1052 is a striking straight-necked dress with a lace-up corset back and a leg slit. It also comes with multi-colored swirly beading in a comfortable jersey material.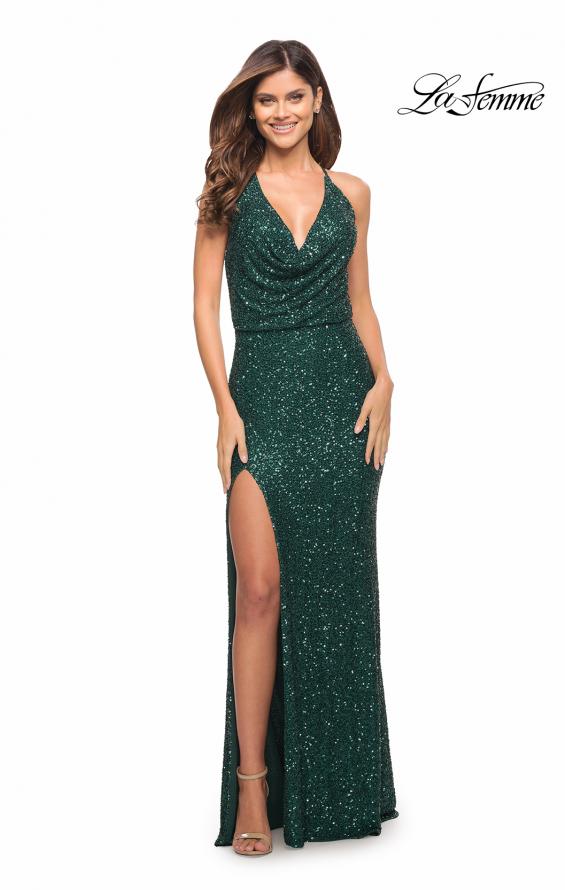 La Femme 30376 comes with a jaw-dropping drapey cowl-neck, and semi-open back with straps that cross in the back. It also features a leg-slit and a soft, olive-green sequin fabric. 
This Tania Olsen number comes in two stunning green colors: a light and delicate seafoam green and a true hunter green, both of which we have in-store at Amari. They feature a thick and smooth fabric with a sheen, a lace-up back, and an elegant cowl-neckline. 
Clarisse 8194 is a ballgown in a deep emerald green color with a glittery belted waist and a v-neckline with supportive thick straps. 
Dave and Johnny 9958 is a structured hunter green dress with thick fabric, a lace-up back, and a princess skirt to boot. It also comes with a double strap and a v-neckline. 
Dave and Johnny 10625 is a mermaid dress with a tulle skirt, lacey transparent bodice, and v-neckline with a semi-open back in another hunter green. 

Jovani 08510 is one of our only strapless dresses, with a thick-strapped lace-up back and sweetheart neckline. It also features an a-line skirt with a leg slit in a glittery emerald green. 
Alyce Paris 60794 is an elegant off-the-shoulder number with a mermaid skirt and glittery emerald green stretchy fabric. 
PS21207 is a dark emerald green made with a velvet base and glittery sequins on top. It's stretchy, super comfortable, and has an incredibly train coming off the mermaid skirt. 
Written by Marisa Fertitta